Russell Sergent opened his first business soon after leaving high school and has gone on to found a number of other companies, such as Pro-Source Xtreme and Fleet Feet Sports, in the years that have followed. In doing so he has developed a number of habits that are common amongst those who find success in business, including the below.

Enthusiasm

If you can't bring enthusiasm and positivity for what you do into your work as a business owner it is likely that your efforts will be for naught. You must have great passion for what you do, as this will drive you forward when you face challenges that seem insurmountable. Furthermore, your enthusiasm will be contagious, allowing you to keep your workforce motivated and ready to do what is required to keep the business moving forward.

Humility

Asking for help is not something to be ashamed of. Almost everybody who has succeeded in business has asked for help in some form or another and there are many resources for you to take advantage of as a business owner. Understand that constant education is important and ask as many questions as you can to develop professionally.

Confidence

If you don't have confidence in what you do, there is no reason for anybody else to believe in you either. You need to be able to talk to people about why your business is great, while also ensuring that you deliver what you promise. Confidence will also help you to take risks where others might falter.


Russell Sergent

is a multi-business owner based in Milwaukee, Wisconsin.
Powered by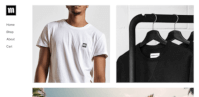 Create your own unique website with customizable templates.